Stars n Stripes
Ah, the great divide. To patriot or not to patriot? That's not the question.
I know many people, including myself struggle to connect to the 4th of July like an iPhone in an overcrowded free WiFi zone. It's one of those holidays that creates this pseudo patriotism of being a proud American at the expense of some many lives without recognition
Now, I promised myself I wouldn't go off on a social media rant, but this is my "personal" space so Imma say exactly what I need to say...
My great, great grandmama did not gain her independence on July 4th.
But I'm not bitter. I'm a realist.
Just like I grew up knowing Santa wasn't real (he was the traveling 'Christmas Clown' there for photo-ops), I know the 4th is another cloaked holiday so I choose to still celebrate it with BBQ and backyard chats. Guess you can call it my own version of "Christmas in July."
I'm also thoroughly satisfied that a google search of Independence Day returns a long list of links to a black, apocalypse-saving hero to remind you that our contributions are still what afford you your everyday freedoms, even in a hostile alien takeover. (Thanks, Will!)
Make no mistake though, I don't just consider myself American. I am America. No, I'm not a blue-eyed, I mean blue-blooded soldier. Neither is all of America.
America is those who sacrifice daily to ensure the protection of human rights. America works to build connections with those who don't look like oversimplified image.
America rushes out of her comfort zone to experience the divinity of discomfort.
America bears her stripes in order to reach her stars.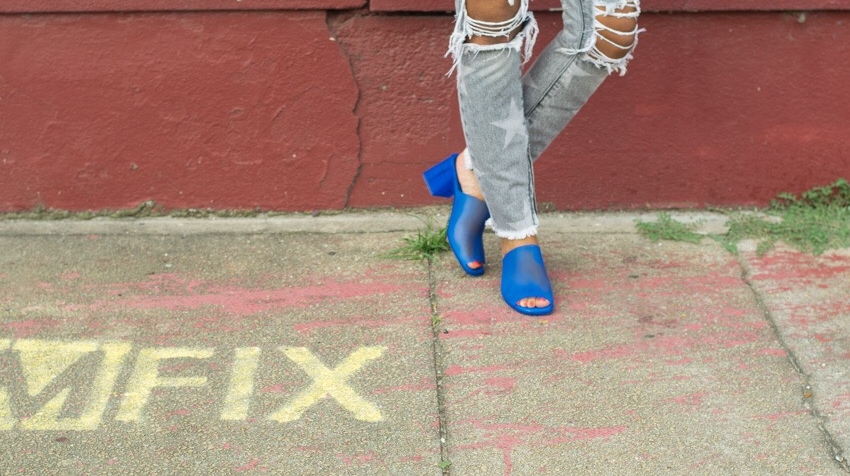 | striped, bell-sleeve blouse x Anthropologie
| high-waisted star jeans x OneTeaspoon
| blue rubber mules x Jeffery Campbell